About the Episode
An interview with Kim Scott, author of "Radical Candor" and "Just Work". Kim was a CEO coach at Dropbox, Qualtrics, Twitter, and other tech companies. She was a member of the faculty at Apple University and before that led AdSense, YouTube, and DoubleClick teams at Google. Earlier in her career Kim managed a pediatric clinic in Kosovo and started a diamond-cutting factory in Moscow.
We speak about a lot, including:
How she's already getting feedback on the book, not just complements, but people taking action based on it
Whether she's got any negative feedback from the types of people who complain about political correctness
How she knew she was onto something when her dad's friends had a lightbulb moment discussing the book
How she felt revisiting painful experiences from her past, and whether this was a positive or negative experience for her
Whether strategic swearing in books is a positive or negative when trying to land a message
How she got feedback from a black female executive that being radically candid doesn't work for everyone, and how this spurred her to write her new book
Whether she felt she was an imperfect messenger for the themes in this book given that she is herself privileged
How we all used biased language, how words matter and why it's important that we all work on it
How to point out people's biased, prejudiced and bullying behaviour without getting their defences up and shutting you down
How to be an upstander not a bystander, and building this into the culture of your company
What to do when the problems in your company are systemic, from the CEO downwards, and the importance of checks and balances
Buy Kim's books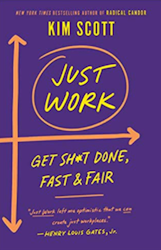 "We―all of us―consistently exclude, underestimate, and underutilize huge numbers of people in the workforce even as we include, overestimate, and promote others, often beyond their level of competence. Not only is this immoral and unjust, it's bad for business. Just Work is the solution."
Just Work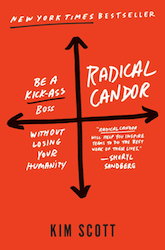 "Radical Candor is about caring personally and challenging directly, about soliciting criticism to improve your leadership and also providing guidance that helps others grow. It focuses on praise but doesn't shy away from criticism ― to help you love your work *and* the people you work with."
Radical Candor
Get in touch with Kim
You can check out Kim's work on the Just Work website, or follow her on Twitter.